Co-op Community Spaces Funds Turtle River Trails
Actions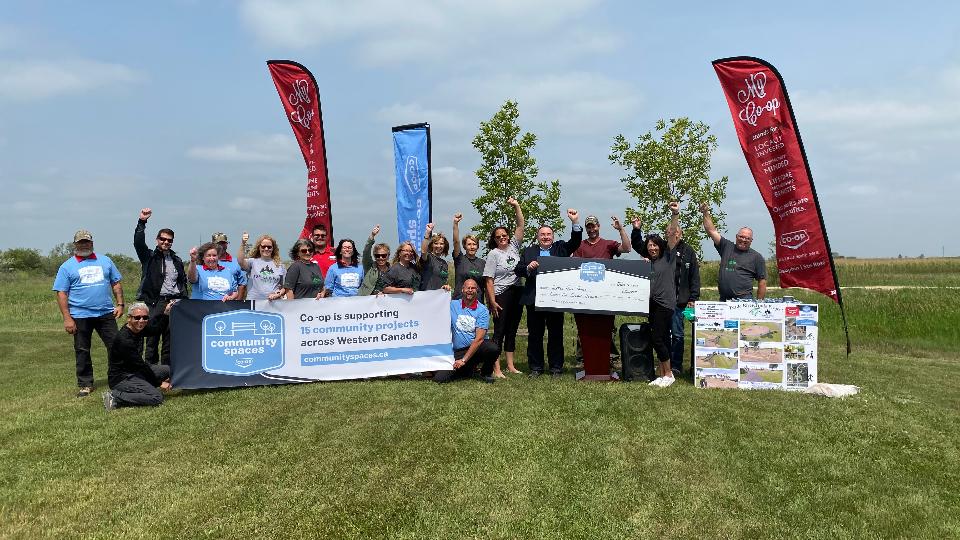 Co-op Community Spaces Funds Turtle River Trails
June 15, 2023
Co-op Community Spaces is funding projects that will help bring our communities together.
Turtle River Trails in Ste Rose is one of 15 projects receiving a portion of $1 million as a 2023 recipient of Co-op Community Spaces and one of only three projects approved in Manitoba.
This year, Co-op is providing $85,000 to develop the Turtle River Trails, Phase 2 to help upgrade the Ducks Unlimited walkways, toboggan hill, disk golf course, and nature playpark. This will provide more opportunities for families and children of all ages to play and get active.
"Turtle River Trails Committee are so excited to introduce something new and fun to our area, thanks to the prestigious Co-op Community Spaces program. Keeping it a secret for 2 months has been really hard. The Nature Play Park with the zip-line, toboggan hill and disc golf course will be a wonderful addition to our community. We are so honored to be the lucky recipients of the Co-op Community Spaces funding and it shows Ste Rose how community-oriented Co-op always is!" said Marie Sorlie, Recreation Director, Municipality of Ste Rose and RM of Lakeshore.
"Co-op Community Spaces brings people together, creating places for everyone and building a lasting legacy that benefits our community into the future. We are so excited to partner with the Municipality of Ste Rose on the Turtle River Trails project." said Lorne Eiffert, General Manager, Dauphin Co-op. "Investing in our communities is central to our Co-op. We care about our communities and so do our Members. We work to make life better in Western Canada. It brings our Vision to life – to enrich the life our communities. Partnering with community groups on important community projects like this is a natural fit. We are creating beautiful spaces for our community to enjoy now and for years to come."
"Each project can be different in a community where it's located and that's the beautiful thing about local residents building their communities — they understand the community needs. I want to thank the Turtle River Trails committee for your commitment and extraordinary work you do on a daily basis that makes such a big difference in the community of Ste Rose. Co-op is proud to be part of bringing this project together. We are improving the places where people meet,play, learn, and share."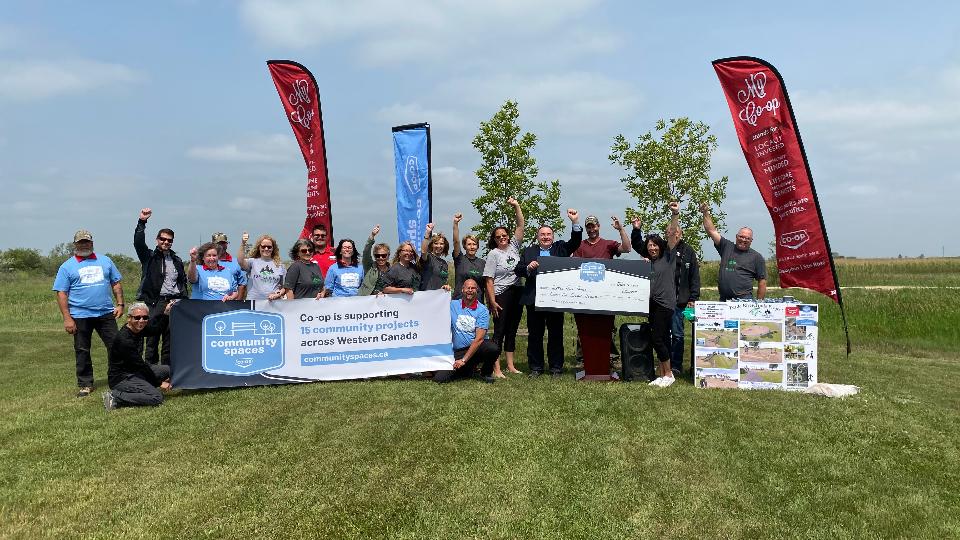 "The Co-op is an important part of our community. They've been a great supporter of our community and have awarded a few grants in the last few years and we'd like to thank them for that." said Rob Brunel, Mayor of the Municipality of Ste Rose.
Shari Shankaruk, Councillor, Municipality of Ste Rose and Chairperson of Turtle River Trail Committee, said "The Turtle River Trail project began in 2021 in the wake of COVID-19 shutdowns and protocols. We were all needing to get out of our homes and get active. The idea of a trail system in our community was born. We enlisted the expertise of Alex Man, Geological Engineer / Trail Designer, who was able to create a multi-phase plan for this project intended to enhance, beautify, and promote healthy living in our community." Alex has been instrumental in creating and designing two other projects that have been approved for Co-op Community Spaces funding in the past few years.
"With the incredible support and generosity of our community and the hard work of our community members we are nearing the completion of Phase 1, a walking/biking trail around the perimeter of the community. The Turtle River Trails Committee is incredibly grateful and excited to announce our partnership with Co-op for Phase 2 — the Nature Trail and Nature Play Park and Disk Golf Course.
We are so very thankful to be the recipient of the Co-op Community Spaces grant to have Co-op partner with us to create such an amazing space for the people of Ste Rose and surrounding communities to enjoy." said Shari Shankaruk.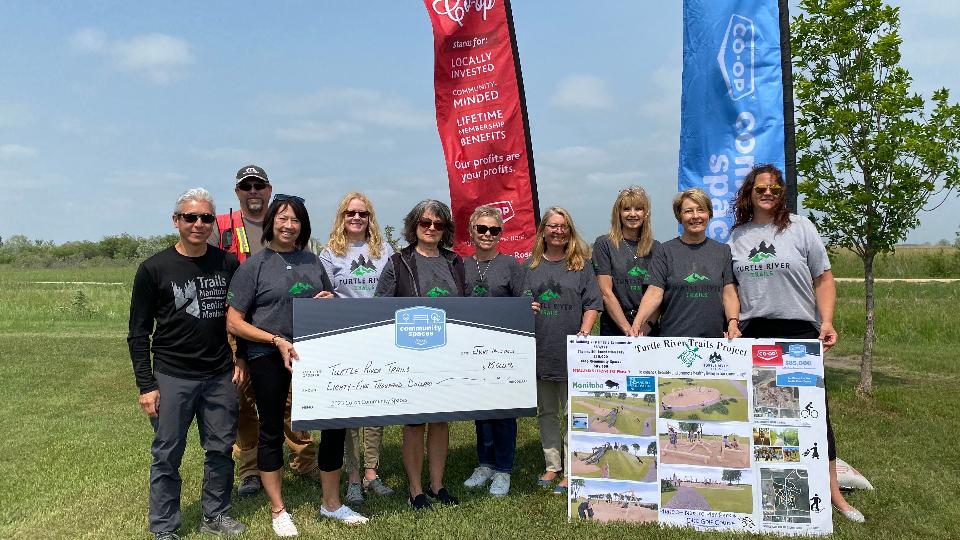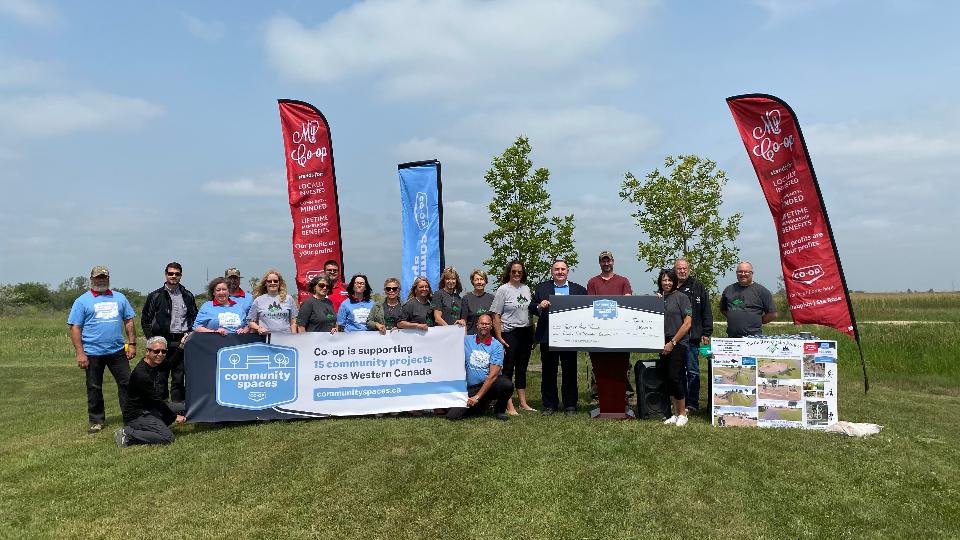 "I'm super stoked! We now have almost $179,000 with Co-op on our side. It means zero fundraising is needed for Phase 2! Throughout this project the Turtle River Trails ladies have been amazing. They are great with fundraising and support us when it comes to events we have HUGE support from the community. Thank you Co-op. You will make a lot of kids smile. A lot of people smile." said Marie Sorlie. Marie has been instrumental in successfully applying for grants for this project from the beginning.
Co-op Community Spaces has approved three other projects in our area since the program began in 2015:
Co-op Community Spaces is designed to help protect, beautify and improve spaces across Western Canada. Through the program, Co-op has provided $12.5 million to 175 projects since 2015 in three categories: recreation, environmental conservation and urban agriculture. FCL administers Community Spaces on behalf of more than 160 local Co-ops operating in 600 communities.
Discover more: