Fuel Good Day on September 20th
Actions
Fuel Good Day on September 20th
September 7, 2022
Update
Thanks to your generous support on Fuel Good Day $5,000 will be donated to The Bridge Youth Drop-in Centre. An additional $1,150 was raised at the Bbqs at each Gas Bar during Fuel Good Day! Thank you for your continued support on Fuel Good Day!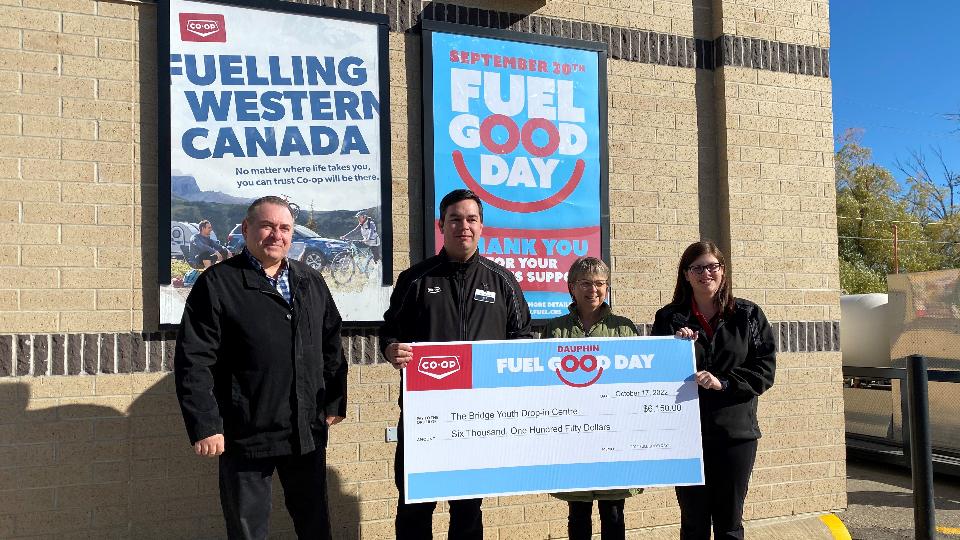 Lorne Eiffert, Dauphin Co-op General Manager presents a cheuqe to Donna Devries, Co-Chair of The Bridge Youth Drop in Centre. Pictured above: Lorne Eiffert, Joe Houston, Donna Devries, Kelly Moroz.
Fuel Good Day on Sept. 20 was a success thanks to Co-op members and customers across Western Canada. Together, we raised $650K! Every year on Fuel Good Day, Co-op donates a minimum of five cents per litre of fuel purchased at participating gas bars to local charities and non-profits. 
There were 175 organizations selected as recipients for Fuel Good Day in 2022. Over $3.65 million has been raised since the event began in 2017.
On Tuesday, September 20, fuel up at the Main Street or Mountain Road Co-op Gas Bar location. Your local Co-op will donate 10¢ per litre sold to the Bridge Youth Drop-in Centre in Ochre River, MB!
The Bridge Youth Drop-in Centre has been providing local youth a place to go after school to learn new skills and gain experiences. "The funds raised during Fuel Good Day will help with programming and building maintenance so we can better serve our youth and the Ochre River community." said Keith DeVries, volunteer at the Youth Drop-in Centre.

Join us for lunch 11am – 1:30 pm at both Gas Bars for a Fundraiser BBQ - all proceeds to the Bridge Drop-in Centre. Pre-orders are welcome. Contact Donna Devries 204-648-7952.

"Once again, Fuel Good Day is providing the opportunity for us to work together with our members and customers for the benefit of our community," said Lorne Eiffert, General Manager of Dauphin Co-op. "This is a great fundraiser that shows how small actions can have big impacts."

Special thanks to CKDM and Dauphin Herald for generously partnering with us each year to promote this important event and make it a success.
We are so proud to support the Bridge Youth Drop-in Centre and contribute to the success of the program for the students and community of Ochre River. Be sure to come by with an empty tank on Tuesday, September 20 and feel good when you fill up!
Discover more: