Dauphin Co-op Volunteers Make a Local Impact
Actions
Dauphin Co-op Volunteers Make a Local Impact
March 5, 2023
Update April 20, 2023
We are celebrating National Volunteer Week by showing appreciation to our employees that volunteer in our communities.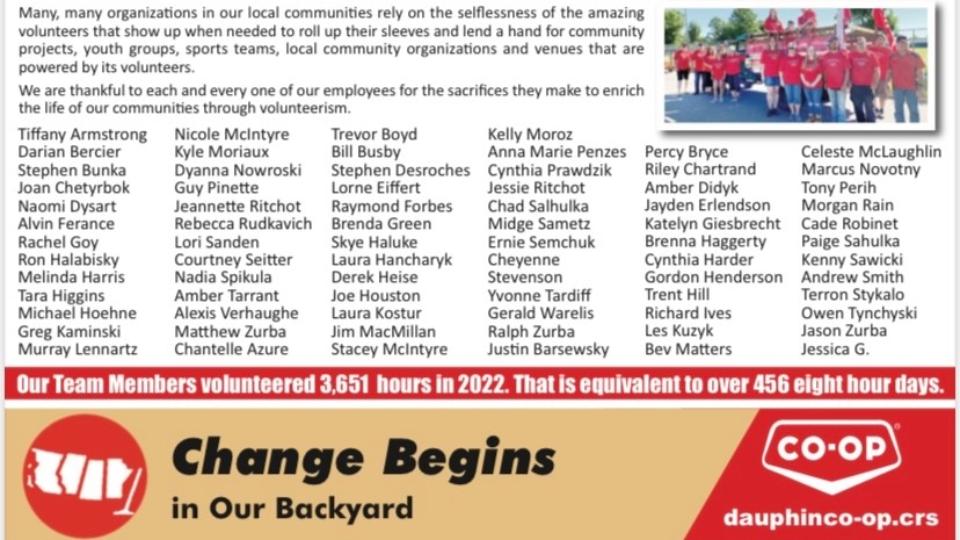 Dauphin Co-op is a strong supporter of our communities. We value the time our Team Members devote to volunteering in the community.
Every quarter, Team Members who volunteer are entered into a draw and one is chosen to donate $500 to a local charity or not-for-profit organization of their choice.
Of all the Team Members that volunteered in 2022, the following names were drawn and $500 was donated to the organizations of their choice.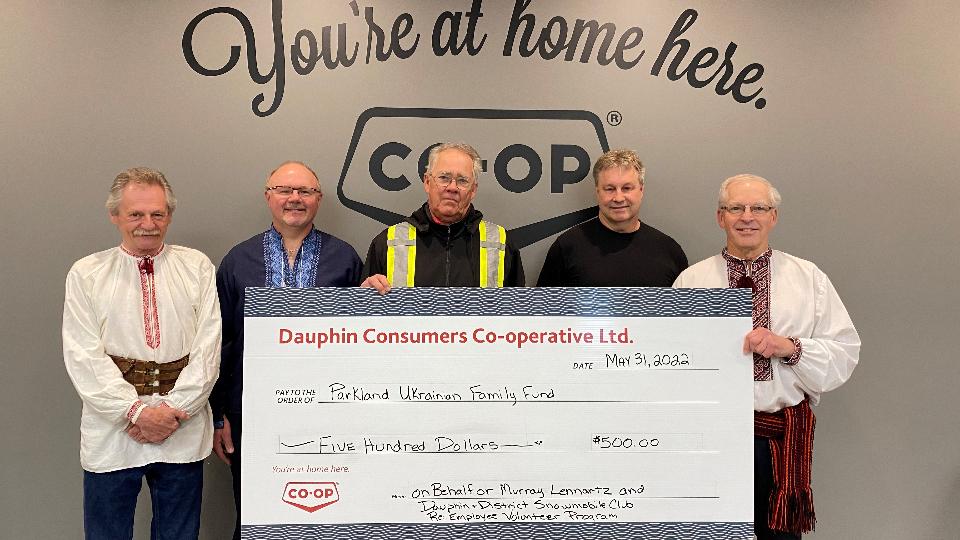 Murray Lennartz volunteers for the Dauphin & District Snowmobile Club. When his name was drawn as the winner of Q1, Murray chose to make the donation to the Parkland Ukrainian Family Fund on behalf of the Dauphin and District Snowmobile Club. The Club had wanted to make a contribution to the fund and were looking at ways to come up with the money since they are a non-profit organization. Murray winning the $500 donation worked out perfectly. The club was able to make a contribution to the fund and we are very proud to present Murray with a cheque to do so. Murray is happy volunteer for the snomobile club and wants to do his part to keep it going for future generations.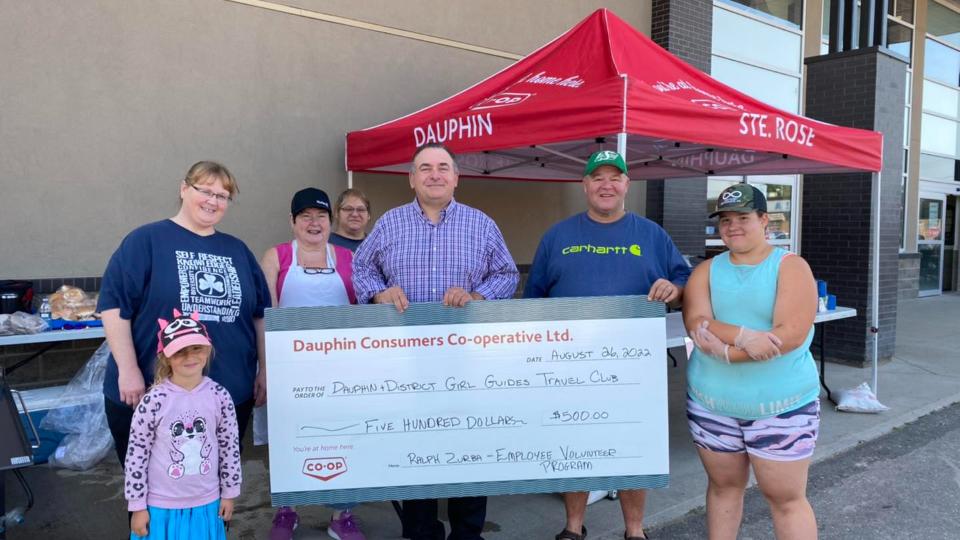 Ralph Zurba spends hundreds of hours volunteering for youth sports and organizations. Ralph's name was drawn as the Q2 winner. He chose to give the donation to the local Girl Guides Travel Club as they are raising funds to go to Churchill in 2023. Ralph has spent much of his life volunteering and coaching. He knows that it takes a lot of dedication to help young people strive to be the best they can be and takes great pride in providing and opportunity for them to excel.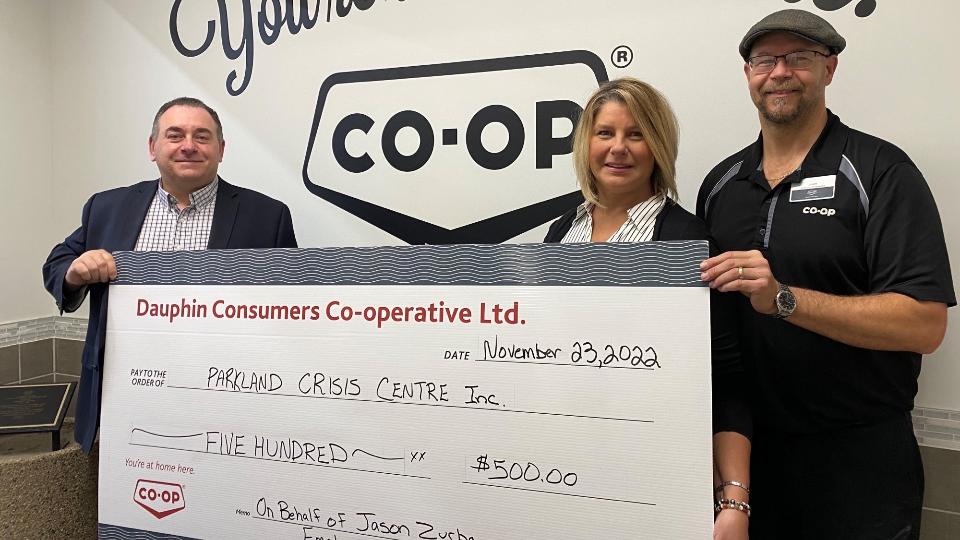 Jason Zurba's name was drawn for Q3. Jason spends much of his time coaching youth sports and chose Parkland Crisis Centre & Women's Shelter. "I want to give back to an organization that will help the people that are brave enough to seek help in a time of need." said Jason.
"Jason is a familiar face in the community, has volunteered many hours coaching the Dauphin Clippers Football team in Dauphin, and has chosen The Parkland Crisis Centre & Women's Shelter, as his charity of choice! These proceeds will be used towards purchasing warm hats, scarves, mitts and socks for women and their children, and men, who access services at the Crisis Centre" said Kari Prawdzik, Executive Director, Parkland Crisis Centre and Women's Shelter.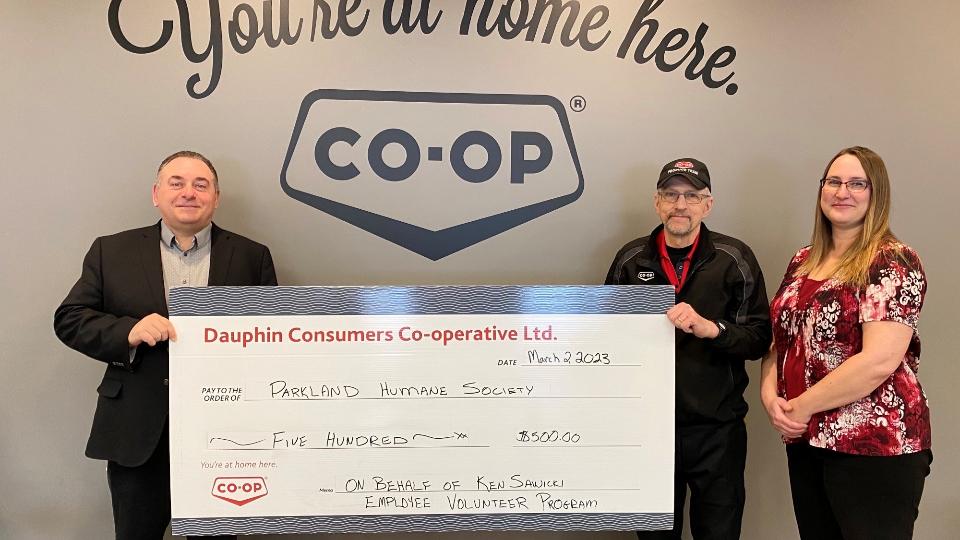 Ken Sawicki spends most of his spare time at the Parkland Humane Society volunteering as the Building and Maintenance Director. He was pleased to choose the Humane Society as recipient to support caring for the cats and improvements to their space.
"'We would like to thank Co-op for the donation of $500 through the employee volunteer program. Ken who works at Co-op chose Parkland Humane Society as his organization of choice. Ken and his wife Pam have been volunteering with the shelter since it's opening. This year will be the Parkland Humane Society's 10 year anniversary. Ken and Pam have been fundamental in our shelter's smooth operations. The cats that come into are our care come from situations of homelessness, neglect, and surrenders, all theses cats are in need of veterinary care. It's our goal to keep these beautiful animals happy, healthy and give them a temporary place until we can find them forever homes. This donation will be a great benefit to the cats' habitat.We are grateful through the support that Co-op has provided today and through the years, through donations and volunteers!" said Hannah, Parkland Humane Society.
Discover more: