Dauphin Co-op Provides Funds for Dauphin Citizens on Patrol
Actions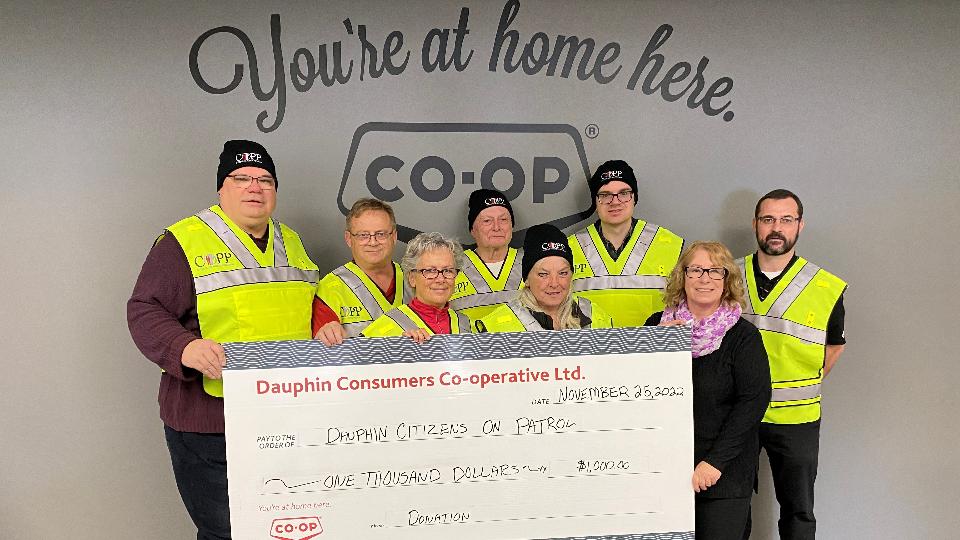 Dauphin Co-op Provides Funds for Dauphin Citizens on Patrol
November 25, 2022
The Citizens on Patrol program is no stranger to the community of Dauphin. The COPP is a crime prevention initiative where volunteers act as extra "eyes and ears" for their community and local law enforcement, plus promote road safety awareness and education. This program improves community safety through deterrence, education and awareness.
Dauphin has been experiencing a rise in crime to property and individuals the past few years. As a community-based business, we feel this is a good fit, we want to make our community safe, welcoming, and inviting for all. This program has been in the works for several months with the goal of taking action to make our community safer for residents, visitors, and property while protecting the volunteers committing to participate in the Citizens on Patrol Program.
Dauphin Co-op has committed to supporting the program with a $1,000 donation to cover some of the expenses needed to run it.
We are in full support of this venture for the City of Dauphin. We thank the volunteer members of the program and those taking a lead to make it a reality. We know that this program will be an incredible asset to our community.
If you have a couple of extra hours a month to help make our community safer, Citizens on Patrol Training is available, and individuals can patrol when it fits their schedule.
If you are interested in joining the citizens on patrol program, which is open to all businesses and the community members of Dauphin feel free to reach out to Dauphin Co-op for more information.
Information packages are available at the Dauphin Co-op Administration Office – open 9am-5pm Monday to Friday. You may call 204638-6003 Ext 201 or email admin@dauphincoop.com for information.
Discover more: