Dauphin Co-op Features Spenst Bros. Pizza
Actions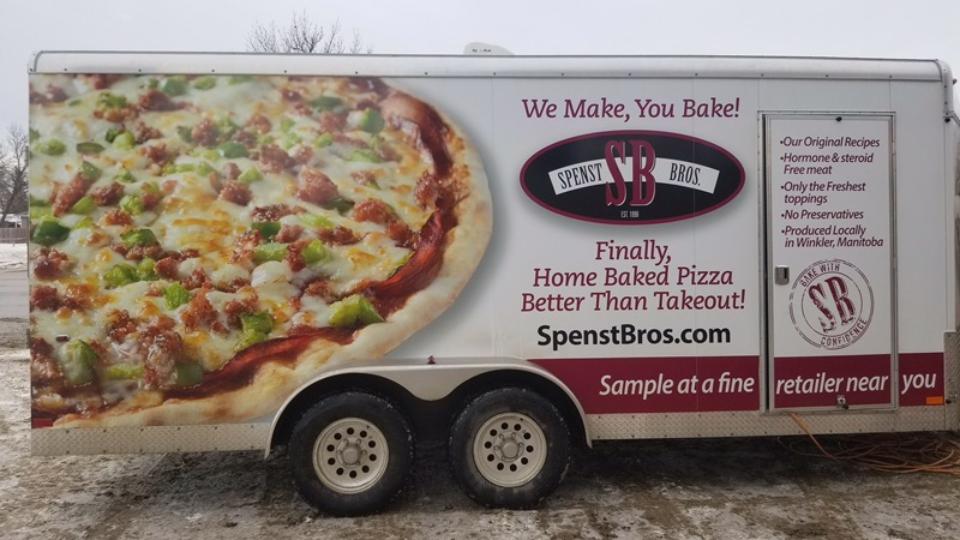 Dauphin Co-op Features Spenst Bros. Pizza
March 3, 2018
Dauphin Co-op is pleased to feature Spenst Bros. Pizza. The toppings are locally sourced - many right on their farm. They also use Manitoba's Bothwell Cheese on their pizzas. This family owned business has continued to grow and evolve as their commitment to offer locally sourced and made toppings for their pizzas has proven to be in high demand.
"We are a farm family that owns and operates a processing plant, production facility, and a retail store in the city of Winkler. We have been in business for over 13 years and are a provincially inspected facility.
The beef we use is raised on our family farm, and the animals are steroid and hormone free. We feed corn silage, milled corn and barley, and alfalfa, hay and straw, most of which is also raised on our farm.
Our farmer sausage is also made with Manitoba pork, and we use only young market animals to avoid hard gristles in the sausage. The farmer sausage is a pure pork product and is gluten free.
The frozen pizza business has become a big part of what we do. We make the pizza crust, the sauce, and all the meat that goes onto our pizzas. We buy local as much as we can (vegetables, cheese and pork). The exception is the pineapple.
As beef guys, it is surprising to us that we suddenly find that the pizza business has overtaken our beef and deli sales. We have gone from feeding 700 head of cattle and running a pizza business on the side, to running a pizza business as the new number 1. One of the reasons for this change is our evolving society; families are busy and they are looking for quick, delicious, and nutritious meals. People also want food that they can trust -food they can serve with confidence. At our retail store in Winkler our slogan has always been "Food the way mom makes it." That statement speaks to the trust we try to build with our customers. We also try to develop the same trust with our wholesale customers.
We currently serve between 70-80 stores with our pizzas and some of our meat products.
We look forward to serving you!"
Discover more: