Dauphin Co-op Donates $10K to Support Our Seniors Fund
Actions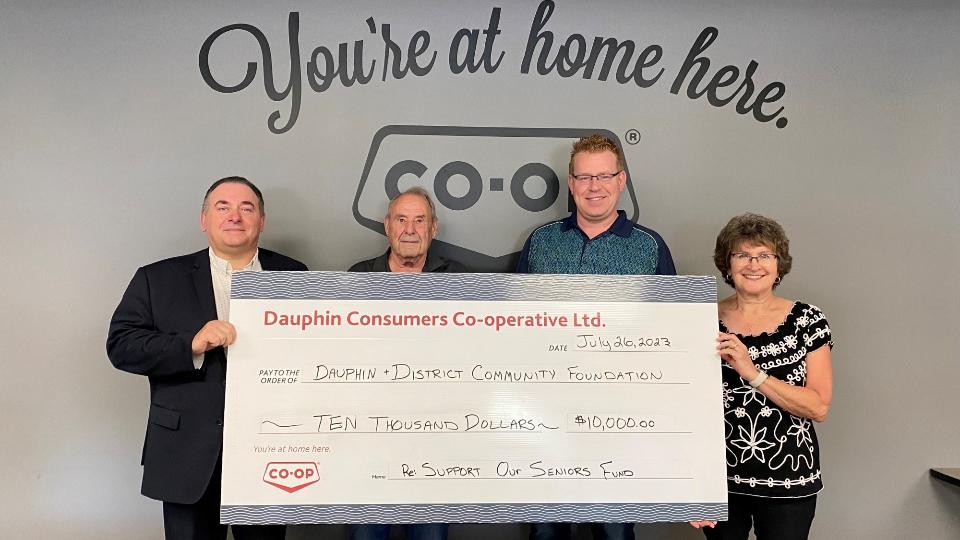 Dauphin Co-op Donates $10K to Support Our Seniors Fund
July 26, 2023
Dauphin Co-op provides $10k funds for the new Support Our Seniors Fund established by Dauphin & District Community Foundation in response to the devastating accident on June 15, 2023, that has deeply impacted our community.
Dauphin Co-op has served the Parkland area since 1939. Many of the victims were just beginning their lives at that time and many of their parents would have been Members of our Co-op. We can never thank them enough for their commitment and work over the years to build Dauphin and the surrounding communities.
The Dauphin & District Community Foundation's new Support our Seniors Fund will provide funding for programming, equipment, and activities that support seniors.
"This has been an extremely difficult and emotional time for our community as we come to terms with the magnitude of our loss. In the midst of all the heartache, we are deeply touched by the support our community has received. The gifts from Dauphin Co-op and Federated Co-operatives Ltd. will have an impact on seniors year after year and we are so very grateful for their support." said Kit Daley, Executive Director, Dauphin & District Community Foundation.

Dauphin Co-op will donate $5,000 to the Support Our Seniors Fund and Federated Co-operatives Ltd (FCL) will match the donation for a total of $10,000.
FCL directs the Co-op Helps program which provides matching funds for local Co-op and customer contributions to a registered charity to support an emergency or unplanned community need, up to $5,000. We are grateful for the support to make an even bigger impact on the fund.

"Co-ops were built to serve and support our communities," said Lorne Eiffert, General Manager at Dauphin Co-op. "As soon as we heard the tragic news, we wanted to help immediately. This seems to be the best way to honour the victims and their legacy. Despite the tremendous impact, our community has rallied together with strength and resilience. We are Dauphin Strong."
Discover more: