Commitment to Excellence Award
Actions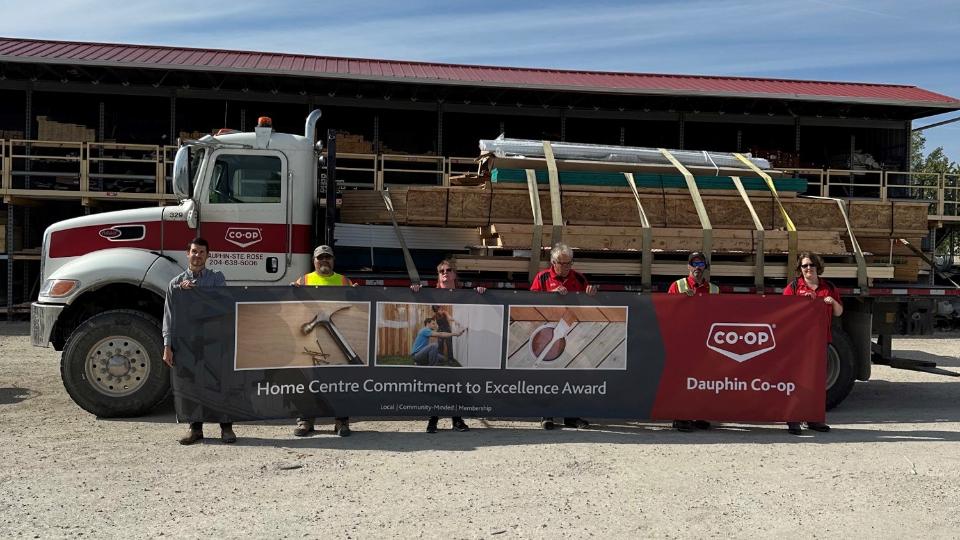 Commitment to Excellence Award
October 18, 2023
We are very pleased to announce that Dauphin Co-op Home & Building Centre has received the Co-operative Retail System (CRS) Home Centre Commitment to Excellence Award for Manitoba Retails from Federated Co-op.
Each year, the CRS Home and Building Solutions Department recognizes excellence in Retailing. The Home Centre Commitment to Excellence Award is presented to those Home Centres that achieves excellence in the following areas:
• Financials
• Operations
• Customer Experience
• Community Involvement
Stephen Bunka, Dauphin Co-op Building Division Manager, credits a strong focus on Co-op brand identity across the division as the reason for their success. Building and maintaining trusted relationships with Members, customers, contractors and each other is a daily focus. Through accreditations and continual training, they are able to offer insights, advice and estimates on building or renovation projects – large or small. They take special care with product selection and do everything they can to ensure products and delivery expectations are met or exceeded.
"We, at Seitter's Construction are proud to be a customer of the Co-op Building Centre and appreciate the help and support we get. Always there for us and try to help in every situation. We know we can count on you and your team. Since we are Co-op Members, we want to support Co-op to be able to fulfill their commitment to various community projects. Keep it up!" said Gerhard Seitter, Seitter's Construction.
"The most important stuff was dealing with you (Stephen) and Gerald. Very good knowledge of what we needed to build farm shop. Great suggestions on shop ideas. Returned emails and calls very quickly. Gerald still returned messages on his days off. Super easy to deal with. Products arrived on time for contractor. Co-op membership allows purchases of many types of products for our farm operation. Great experience with local building centre." Said Brian Strang, Co-op Member.
"The Dauphin CO-OP Building Centre has quality employees who strive to serve their customers. The success of our CO-OP is vital for our community but the support of a business needs to be deserved. The service at the building centre has been consistently high- quality deserving of my family's business." said David Swanton, Co-op Member and Vice President of the Dauphin Co-op Board of Directors.
"We have an excellent working relationship with the local co-op building centre. They have been a trusted partner with our business and we rely on them for much of our building needs. Coop has provided us with competitive pricing, favourable credit, and excellent customer service from advance ordering and special ordering as well as anticipating the needs we have for future projects. They have offered us products that they didn't initially carry like kitchens and flooring and we have since bought more than 10 kitchens from them and thousands of square feet of flooring. The team members have been excellent to deal with from ordering, delivery and returns of any unused items. They help me prepare accurate quotes on new building projects, shingling projects and deck projects. The team members are also knowledgeable and helpful in applying for hydro grants. I grew up in a family that strongly supported co-ops and credit unions. It became second nature to get my own membership number as a co-op store was a regular stop for me in all the communities I have lived in. I value the core values that Co-op has including, local ownership and decisions, and sharing profits back to the communities that they serve. I like to support the community and be part of something that has local employees, pays local taxes and supports local community events. Thanks. I have appreciated all your help over the years." said Gerry Wieler, Credence Capital.
This is not the first time the Co-op Building Division has earned an award. They offer so much more than just building supplies. They help make dreams come true! Take a virtual tour of the display at the 2023 Dauphin Kin Club Business Expo which won "Best in Show" for large displays for the past 3 Expos! We have a dedicated team that takes great pride in designing and building the components featured at the Expo for thousands of visitors that attend the event each year.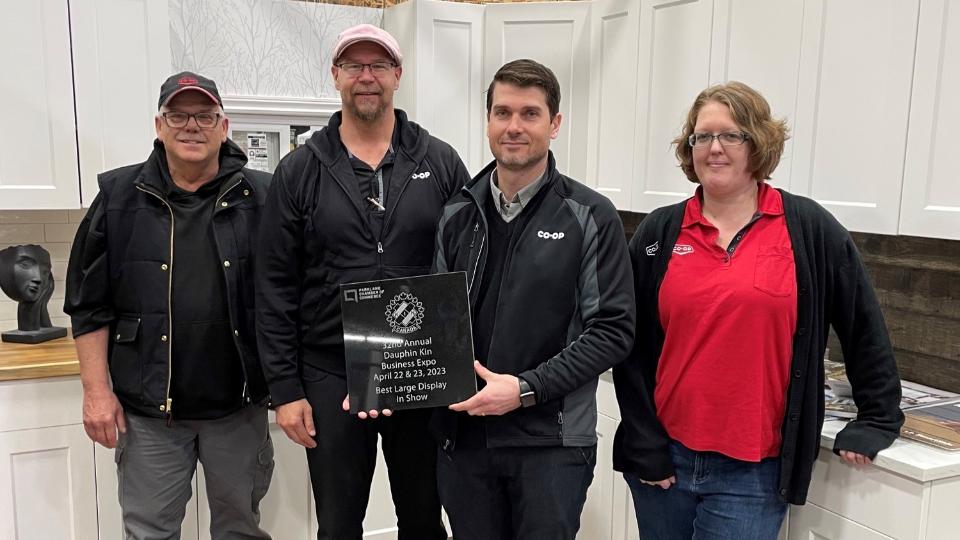 Drop by or call us 204-638-6006. We would be happy to assist you.
Discover more: