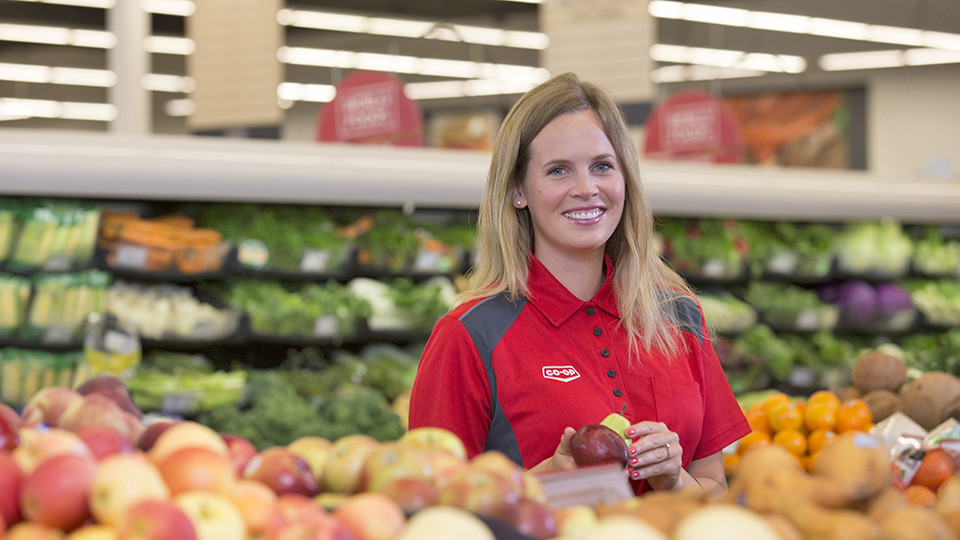 Co-op Food
July 21, 2018
Dauphin Co-op can meet your grocery needs, all while offering service with a smile! Visit us for a great selection of competitively-priced food products. We have a wide variety of national and store brand items.
Enjoy shopping in our brand new Food Store! Many more new products and larger quantities on hand to meet your needs. We pride ourselves in top quality freshly made in-store foods to serve you - meats, produce, bakery, and deli. Enjoy a specialty coffee and a meal in our new Bistro Deli!
Produce
Is our produce department the freshest in town? Stop in and see for yourself! We are pleased to offer our customers fresh quality produce from professional, knowledgeable and friendly staff.

Great selection, premium products (Dole Gold Pineapple, Perfect Melon, Deer Creek Oranges)
Updated facilities with current equipment and fixtures
Weekly advertised features
Weekly unadvertised in-store features
Daily prepared in-store made ready-to-serve cut fruits and vegetables, from single serve size to party trays serving several
Gift baskets available
Proudly supporting Canadian and local producers, look for the "Grown at Home" logos in the Produce Department
No garden, no problem. come taste the difference of local, fresh vegetables this season at participating Co-op stores.
Meat
We professionally cut and prepare our fresh Beef and Pork in-store daily. Our professional meat cutters are available to provide anything you need - from thick, tender steaks to succulent chops - cut to your specifications. We will cut and prepare special orders in-store – while you shop. See us today for all of your meat requirements!
Chicken:
All our chicken is grain fed
Western Canadian Poultry
Pork:
Carefully selected Canadian Pork
Trimmed to 1/8", tender and flavourful
Beef:

Carefully selected Western Canadian Beef
Trimmed to 1/8", tender and flavourful
Co-op Gold/d'Or® :
We have a wonderful assortment of smoked meat products available in our exclusive brand.
Co-op Gold/d'Or® Frozen Boxed Meats and Appetizers:

Looking for something that is easy to prepare? Choose from a large assortment of our easy to prepare frozen boxed meats or appetizers. We have a large variety of tasty breaded chicken wings, strips and a unique selection of breaded seafood. Having a party? Check out our selection of party appetizers that are sure to please any crowd. These are available in the frozen section of the meat department.
Specialty Prepared Meats: In-store made Marinated Meats, Gourmet Meat Burgers, and a great assortment of frozen burgers and patties are only available at the Dauphin Co-op Meat department.
Here at Dauphin Co-op, we have introduced many new specialty prepared meats in our meat department. We have a wide variety of new value added marinated meat products. What we mean by marinating is that we have created a product that is tender, juicy, full of flavour, and ready for you as a consumer to take home and cook. No mess, no fuss, from the store to the grill or oven. Marinated meats are available in beef, chicken and pork and are prepared in kabobs, steaks, chops and roasts. We offer several different tasty marinades to tantalize your taste buds.
We also prepare many other delicious food items. Here is a tasty sample:
Stuffed mushrooms with crab and selected cheeses.
Stuffed chicken breasts and roasts.
Fresh all beef patties.
Gourmet Patties – 5 great flavours: Portabella Swiss, Cheddar Mushroom, Montreal Steak Spice, Cracked Peppercorn,
Blue Cheese
Seasoned frozen burgers and patties
Barbecue seasoned chicken pieces
Many other entertaining ideas
Some items are seasonal but can be produced at any time of year. Place a special order and they will be ready for you to pick up at your convenience.
If you are looking for a new and exciting way to entertain your guests or just add excitement to your daily meals, give us a call or just come on down to the Dauphin Co-op meat department and give it a try.
We do special orders, big or small, like weddings or backyard barbecues. Our knowledgeable staff will be here to satisfy your every need.
Deli
The Dauphin Co-op Deli takes pride in our business with friendly service associates offering you quality products and services. We provide a wide variety of brand name products, in-store made products and catering needs. Check out some of the brand name products we carry!
Some of our in-store products include pizza, subs and sandwiches and salads. As well, we offer the following products:
Rotesserie BBQ Chicken Guarentee Program
New Daily Meal Program: Monday to Friday $6.99 each Homestyle Meals sold hot or cold between 11am and 7pm. Check out the variety in store! Also available our weekend deli specials: Saturdays our 2 for $10 12" Market Town Italian Dry Cured Pepperoni Pizzas and Sundays our $15.99 Maple Leaf Prime Chicken Dinner!
Deli Platters "Everything you need for easy entertaining"

Deli platters are the perfect solution for luncheons, Board Meetings, Company events, or gatherings with family and friends. They provide a simple, convenient way to offer a wide variety of fresh and tasty food options. We have all the ingredients... just leave the presentation to us!
Fill out and drop off a deli platter order form
In addition to meat and cheese trays, let us help you co-ordinate all your menu requirements, including:Vegetable trays, Fruit trays, Sandwich trays, Appetizers

Large variety of specialty cheeses and deli meats
In-store roasted beef & pork
Large selection of gluten free products
Made in Manitoba

Winnipeg Old Country Products
Bothwell Cheese assorted varieties
Phone in and pick up orders:

Dauphin Co-op 204-638-6003 ext. 223
Bakery
Walk in to our bakery and be greeted by the welcoming aroma of freshly baked goods. We offer freshly scratch baked breads, buns, pastries, muffins, cookies and cakes - and more! All baked fresh daily. The only place better than our bakery is mom's kitchen.
Fresh French Bread at 4:00 pm - Hot fresh French bread is to be available every day, fresh from the oven at 4:00 pm, or it's FREE on your next shopping trip.
Custom Photo Cakes - email at bakery@dauphincoop.com or bring us that special photo and let us put a personal touch on your next occasion.
Cake order form - to order that special cake for that special occasion call our Bakery directly: 204-638-6003 ext. 219
Great selection of wholegrain, gluten free, low glycemic index, Weight Watchers, organic NSA and other healthy choice products to suit today's lifestyle.
Fresh baked daily Artisan style breads and rolls
Moist muffins, sweet sticky cinnamon buns and tasty tea biscuits.
Mammoth muffins, cinnamon buns and scones
Look for The Marketown Bakery™Label for a great selection of delicious bakery products!
Co-op Food Store Brands
Co-op delivers high-quality products from a variety of national brands as well as our own private-label brands.
For information about our store brands, please visit our Store Brands website.

Discover more: