Over $100,000 Equity Cheque
Actions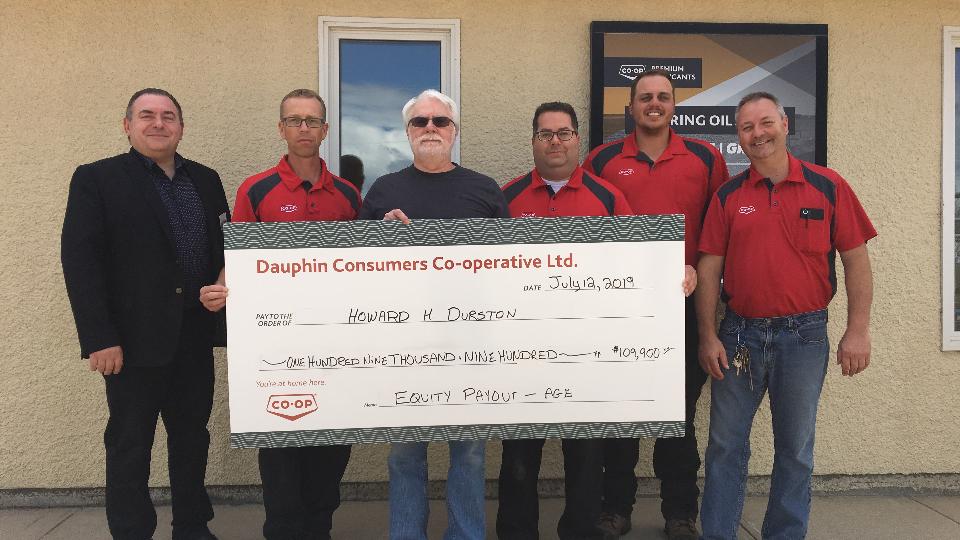 Over $100,000 Equity Cheque
July 17, 2019
Membership Pays! Lorne Eiffert, Dauphin Co-op General Manager, along with the Dauphin Co-op Agro Team present Howard Durston with a $109,900 Equity Payout Cheque!

Meet one of our owners, Howard Durston. Howard's parents were members of Dauphin Co-op and he felt it was important to become a member.
Howard said, "I believe in shopping local and always had a good rapport and service from the people I knew". Over the years, Howard's experience with Dauphin Co-op has been "excellent". He looks forward to enjoying his tax-free equity payout and continuing to farm.
Learn more about becoming a member on the "Membership" tab
Being a lifetime member of Dauphin Co-op is much more than just a membership number. It is the opportunity to support the local economy and truly reap the rewards of shopping locally.

YOUR Co-op – Committed to delivering quality products and service at competitive prices.

YOUR Co-op – Creating good jobs and economic growth close to home.

YOUR Co-op – Sharing the profits with its members & supporting local causes that matter to the community.

Discover more: