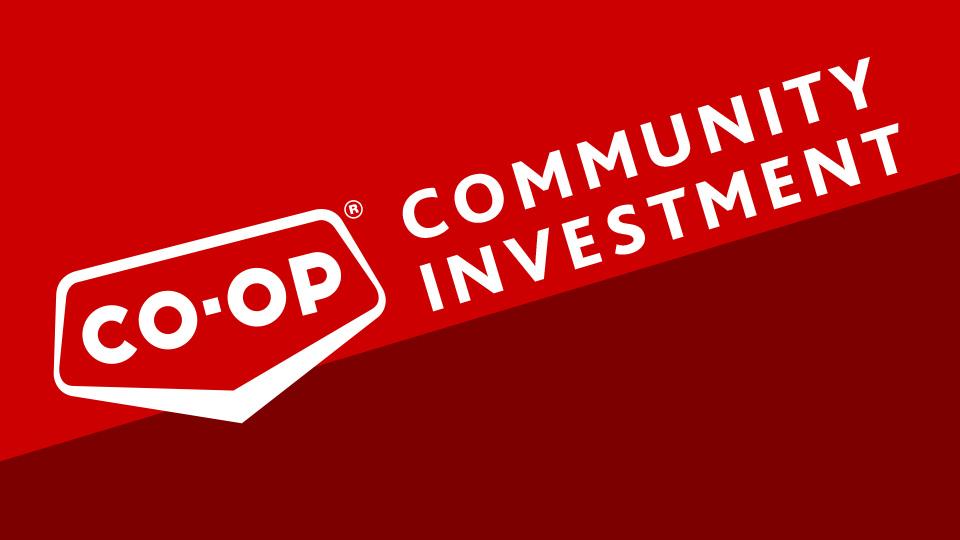 Community Investment
February 28, 2020
Our Co-op was built to serve and grow our community. That's why we return our profits to our members and support the causes and programs that matter to you.
A strong social conscience has always been part of how your Co-op operates. Our business has been built on a foundation of community involvement and service. We will run a strong, financially viable business that returns profits to our members and we invest in the communities in which we operate. We are part of your hometown and care about and support the causes that matter to you, your community and neighbouring communities.
Co-op communities are diverse and so are their needs. We get it. We've designed our programs to help our local communities to thrive and enable organizations to do what you do best for the betterment of our community.
Fundraising with Co-op

Gift Card Fundraising – Our Gift Card Fundraising Program helps local community groups and non-profits raise funds to support their activities and operations. Whether you're raising money to help your sports team, dance crew, charity or travel club, Co-op is here to help! Learn more
Gift Card Fundraiser Application
Looking for a simple fundraiser? Sell CO-OP® Gift Cards and you'll keep a portion from every sale. It's the perfect solution for teams, clubs and schools who need to fund programs and activities.
Community Event Fundraising – Community Event Fundraiser Application
Hosting a local fundraising event? Co-op offers equipment and donation bundles to help your non-profit or community group host a fantastic local fundraiser.
Community Support Fund – Community Support Fund Application
Need a one-time donation for a community project? Apply for a cash or in-kind donation to help support programming, complete projects or improve facilities and services that better our community. This includes Marketing sponsorships and gift card/product donations. Learn more
Sponsorship Guidelines:
• Consideration will be given to youth groups and non-profit organizations within the trading area of Dauphin Co-op retail locations
• If sponsorship is approved, it is expected that Dauphin Co-op is acknowledged with banners or signage so that attendees, participants and our members are aware of the contribution
• A picture will be required with the recipients of the donation or sponsorship and posts on social media and any other news media may be used as a 'Thank You"
Eligibility:
• Youth organizations or sports teams and events
• Local school teams, activities and events
• Community groups and non-profit organizations and events
The following programs/groups are ineligible to apply:
• Individuals, including socials
• Federal, provincial or municipal government agencies and school boards
• Profit based organizations
• Projects or programs outside of Dauphin Co-op trading area
• Groups that could have an adverse social or environmental impact
• Third-party fundraising campaigns
Discover more: