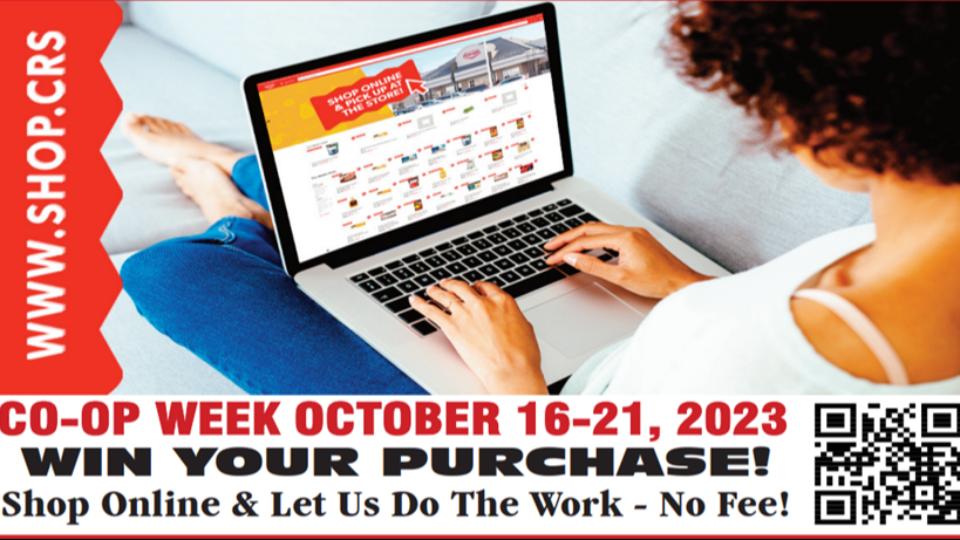 Co-op Week 2023
October 15, 2023
Updated October 30
We would like to thank all of our amazing Members for celebrating Co-op Week with us at each location! Through your continued loyalty we are able to provide support to many local initiatives that matter to our communities. We were pleased to present a cheque to Shelly Brunel, The Court Project, for $6,868.96 raised during Fuel Good Day for a much-needed new basketball court for Ste Rose. We also met for a photo with the Dauphin Kings as Jersey Sponsors. We gave away 2 giant pumpkins to The Dauphin Friendship Centre and one giant pumpkin and a crate of pumpkins to Northgate Trails for their Haunted Forest Event. We became a drop-off location for winter coats and were able to gather 6 extra large bags of winter coats and more for distribution through Parkland Crossing and Ste Rose Food Bank. We also held a Fundraiser BBQ for Ste Rose School Travel Club. We can't thank you enough for your support.
We gave away beautiful Gift Baskets at every Co-op location in Dauphin and Ste Rose exclusively for our Members and held a Giant Pumpkin draw for our Co-op Kids Club Members. One lucky Co-op Member won their purchase simply by placing her grocery order online — Sandra Dowhan. Here is a list of the other winners:
Giant Pumpkin: Aimilia
Basket Winners:
Monique Lobert

—

Main Street Gas Bar
Ken Plustwa

—

Mountain Road Gas Bar
Stew Sabiston

—

Dauphin Building Centre
Ivan Delaurier

—

Ste Rose Home Centre
Fraser McPhee

—

Dauphin Agro Centre
Jesse Lussier

—

Ste Rose Agro Centre
Laverne Stevenson

—

Food Store
It's Co-op Week — October 16 — October 21.
Dauphin Co-op has been serving the communities we love and call home for 84 years and we are celebrating YOU our amazing Members ALL WEEK LONG!
Monday - Friday
You will be entered to win a beautiful Gift Basket at any Co-op location in Dauphin or Ste Rose each time you use your Co-op number!
Do your grocery shopping online with NO FEE plus you may WIN your grocery purchase back! If you haven't experienced the ease of shopping online instead of in-person, check our webpage to learn how and see how our Members enjoy it. Click & Collect Online Shopping
Drop off gently used winter coats at any Co-op location in Dauphin and Ste Rose. Together, we can make a difference in our communities.
Kids Club Members can enter to win a GIANT Pumpkin at our Food Store!
Monday, October 16 — join us for free coffee and cookies at the Food Store 1-5pm.
Tuesday, October 17 — join us for free cookies at Ste Rose Agro and Ste Rose Home Centre. Enjoy a BBQ lunch at Ste Rose Home Centre 11am-1:30pm with proceeds going to Ste Rose School Travel Club. You will be supporting their fundraising efforts to travel to Greece!
Wednesday, October 18 — join us for Free Coffee at the Dauphin Co-op Gas Bars!
Thursday, October 19 — join us for free cookies at Dauphin Agro and Dauphin Building Centre!
*Contest Rules
You must be a member of Dauphin Co-op to enter the draws. You may become a member in order to receive an entry for the draw. You will receive an automatic entry with a purchase October 16-20 at any Co-op location in Dauphin or Ste Rose.
No purchase is necessary. Co-op members can request an entry by sending a self-addressed stamped envelope by mail to:
Dauphin Co-op
18 3rd Ave NE
Dauphin, MB R7N 0Y6
Discover more: