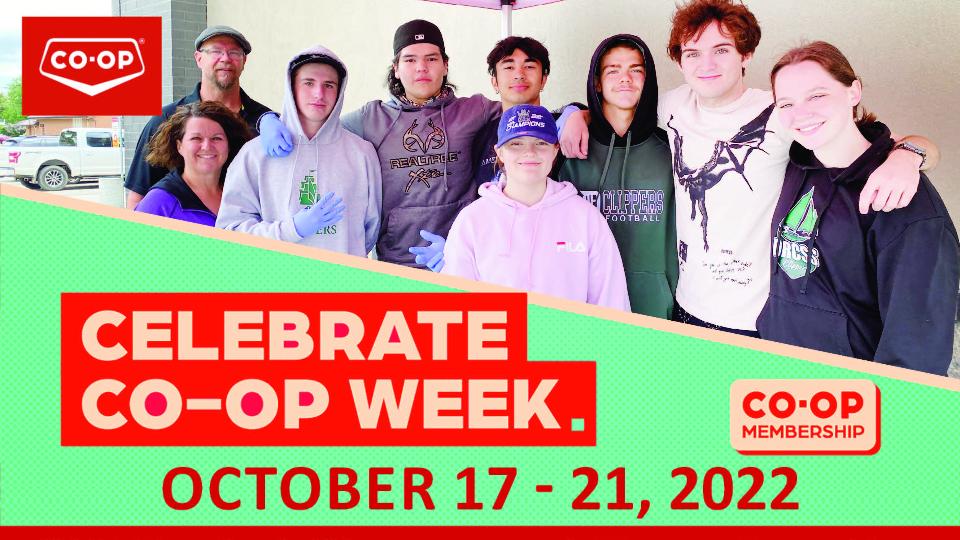 Co-op Week 2022
October 16, 2022
Update — Thank you to everyone that came by our locations to celebrate with us. See the Co-op basket winners and Daily Co-op Trivia winners on social media in the attachment below.
Happy Co-op Week — October 17-21
Co-op Week is a time to celebrate what Co-op is all about — helping others, supporting our community, and enriching the life of our communities. We are not a building. We are not a grocery store. We are not a gas station. We are a group of people who come together to build up their community, to help their neighbours, to make a difference.
"You can feel confident knowing that every single dollar our Co-op earns stays right here in your communities and goes back to your members." states Lorne Eiffert, General Manager, Dauphin Co-op. 'This makes us a different kind of business. Locally owned and operated. We are a part of your community, investing in your community and making the local economy stronger. Did you know that in the last five years, our Co-op gives back $35,000 per day, 1,070,000 + per month, and over $12 million per year back to our communities?"
Fundraiser Bbqs, 11-1:30pm Tuesday, Food Store for DRCSS Clippers Hockey Team, and Thursday, Ste Rose Home Centre for Air Cadets. Stop by for lunch and help support them.
See your favourite Dauphin Kings Players at the Food Store on Tuesday 11-1 in support of Clippers Hockey Team!
This year during Co-op Week, you will have a chance to win a Gift Basket at any Co-op locations in Dauphin or Ste Rose. You will be automatically entered each time you use your Co-op #.
Social Media Daily Trivia Questions to win $25 Co-op Gift Cards — watch our Facebook and Instagram pages for a daily trivia question and pick your answer the correct answers will go into a random draw for $25 gift card.
Not a Member? Not a problem! You can become a Member and an Owner at any location or online for a onetime fee of only $10. Membership
*No purchase necessary. Email admin@dauphincoop.com for an entry. Use "Co-op Week 2022" in the subject line of the e-mail.
Stop by for a coffee and donuts this week:
Tuesday — Food Store after 2pm, Wednesday — Gas Bars, Thursday — Home & Building Centres & Ste Rose Agro, Friday — Dauphin Agro.
Watch our social media to learn more about your local Co-op this week.
Discover more: